Pastor Tim's Devotion for July, 03, 2020:
Don't Give Up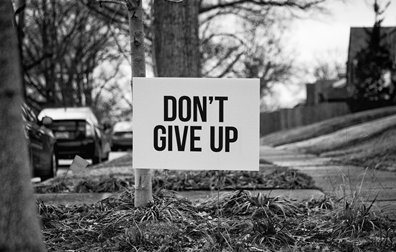 We sure have seen a lot of different yard signs in the last few months haven't we? From graduation, birthday and wedding anniversaries to Black Lives Matter and Thank You Health Care Workers. I saw the one above on one of my walks the other day.
Don't give up…hmmmmm. That got me to wondering, when is it time to give up, to stop trying, to settle for what is?
The despair that's around us is real, and it has exposed many of the fault lines we've been ignoring for centuries.
Leadership is needed. All of us, regardless of our age, where we live or what we do, now is the time for us to help in moving forward.
As children of a loving Creator what else can we do but seek to make things better? We need to start wherever we are and do what you can.
Today, the hard work of leading, asserting, connecting, listening and contributing seems incredibly difficult.
But it's needed now more than ever. Right here and right now.
…and hope does not disappoint us, because God's love has been poured into our hearts through the Holy Spirit that has been given to us.
Romans 5:5
With our hearts filled with love now and the power of the Spirit we are called to make things better. Making things better is a belief and attitude. The attitude of possibility and the posture of generosity and the belief of hope.
Don't stop speaking up, don't stop leading, don't stop learning. Don't stop seeking justice.
We can't give up.
Filled with the love of God we MUST act with grace, kindness and confidence, even when the world is turned upside down.
Don't Give Up Hope,
Pastor Tim